Ever fallen in love with a piece of art that's not exactly your style, or that you're afraid won't fit with your decor? We're here for you–you Feng Shui followers. *Side note before we dazzle you with our transformations (#humility)… if a piece of art catches your eye or "speaks to you" as the gallery-folk like to say, BUY IT! Love at first sight, in life or in art, doesn't happen as often Netflix would have us believe. You know I'm right.
So with that said–and for your seasonal viewing pleasure–we've chosen a vibrant summer print, and we're going to show you 5 different super-fabulous (again #humility) frame styles to help you make any piece of art your own. Or someone else's. Gifts, know what I mean?
Let's start with color!
Because who doesn't love a bright, cheery pop of color? If you've just said "me" under your breath, you're still a good person: hang in there, and we'll get to you in a sec. But if you indeed paint with all the colors of the wind? Well then, the world (and at least 30% of our frame wall) is your oyster! <–also, sorry for the land/sea mixed-metaphors there.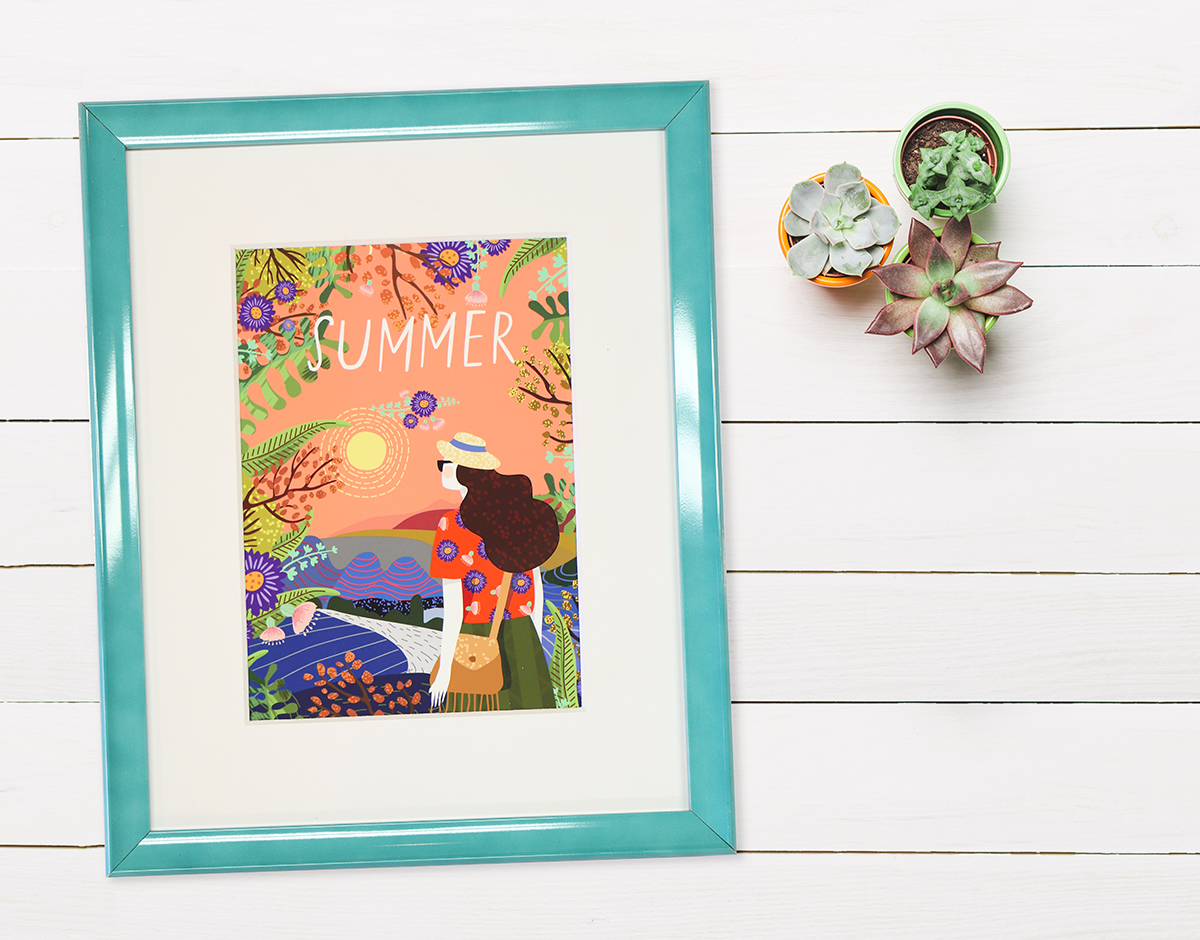 *Note: unsure of how to mix colors? If the colors are opposite each other on the wheel, they will always complement each other, like the turquoise green frame we've chosen to make the poppy red in the print… well… POP. Use this handy color wheel as your guide because as we all know: HGTV's got it going on!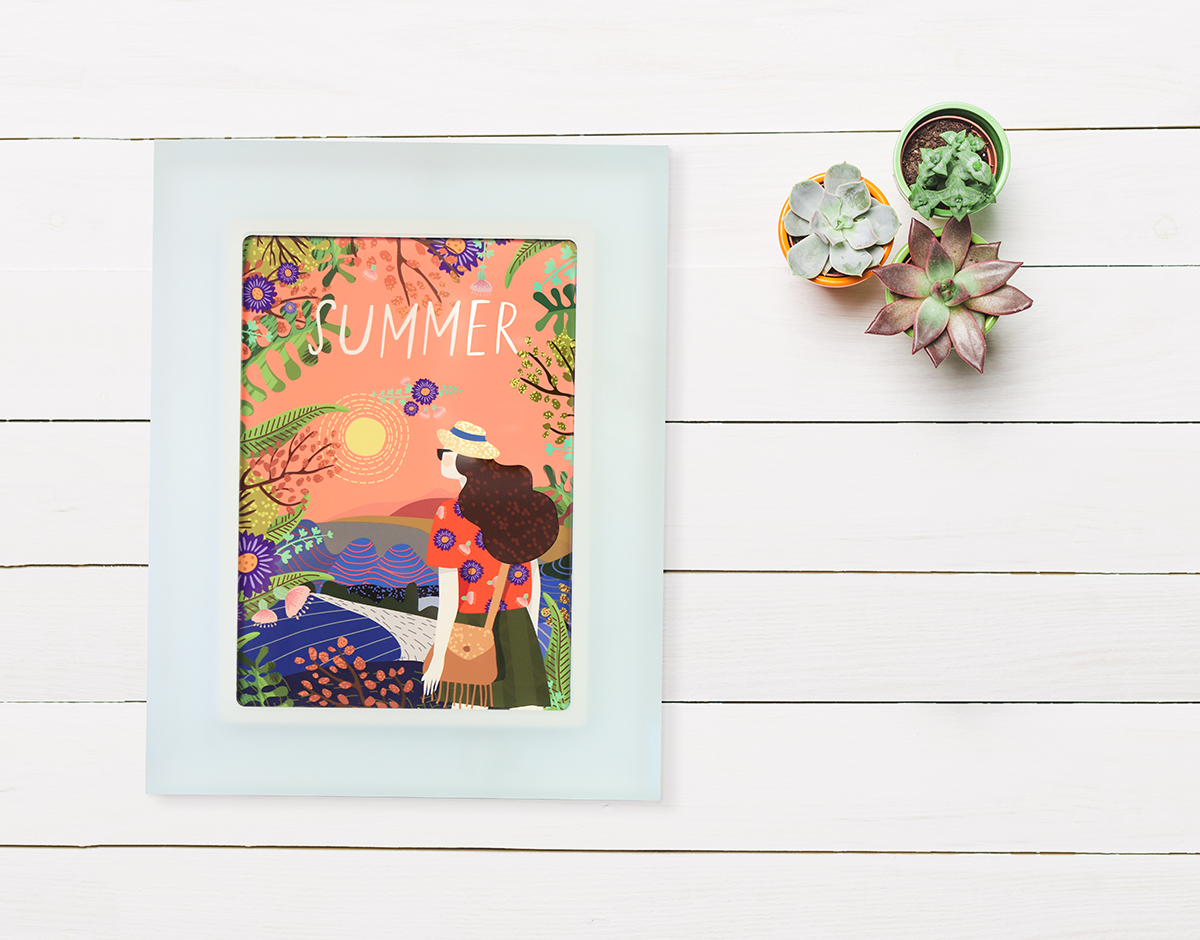 Love color, but not so much in your framing? Turn down the intensity a little with our frosted "clearly-colorful" acrylic frames, available in over 50 color options. Choices, choices… Also, opt for no matting if you like a less-fussy design. From boho to traditional to ultra-modern, these frosted acrylic frames let your colorful prints live their best life without necessarily being the life of the party (or your room).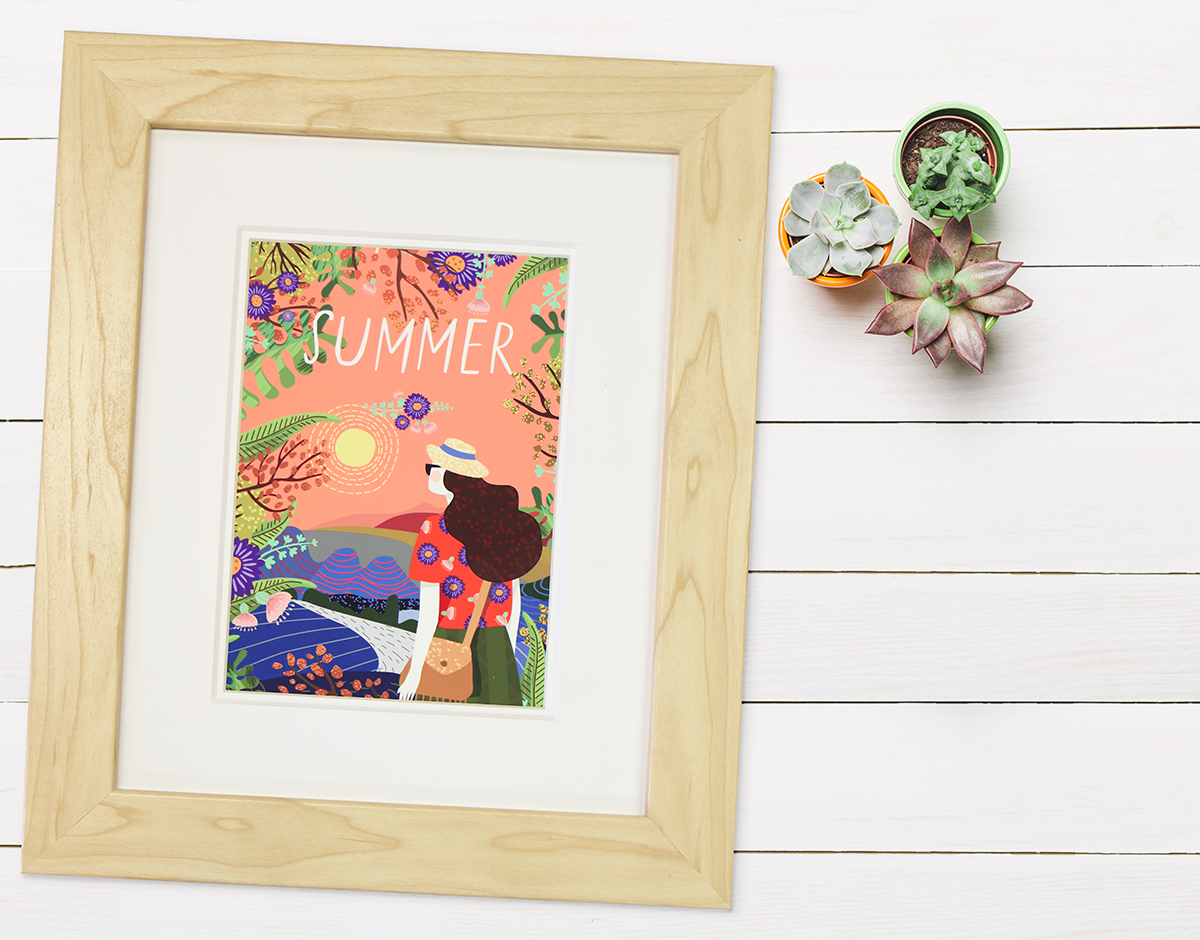 Did you know that classic is the new modern? I just made that up, but let's roll with it, okay? Okay. So up next is classic blonde maple for days. Amp up your beachy vibe this season with white mats and light frames! Bright, airy, clean interiors are definitely in vogue right now; and warm neutral wood frames will beautifully enhance–but not add loudness to–colorful art.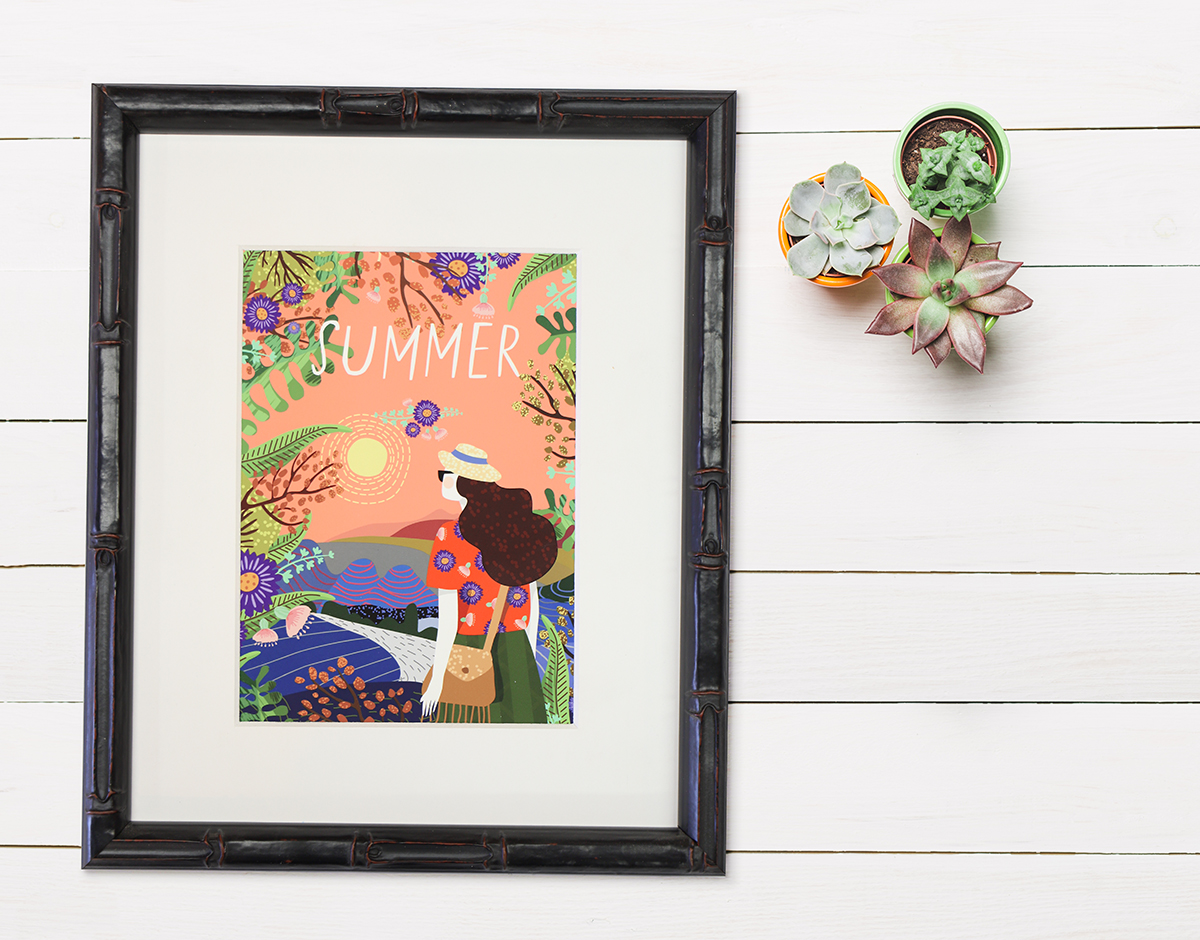 Don't be afraid of the dark! Who would have thought that a dark frame would highlight these bright colors so perfectly? Well, I guess we did since we wanted to showcase it for you? But anyway… For a year-round, any-season look (minus the "Summer" title of the print #obviously), balance your interior with both light and dark elements. Darker frames add sophistication, richness, and a distinct sultry look that is always on trend.
Give in to the dark side and be dazzled by its contrast and harmony with bright colors.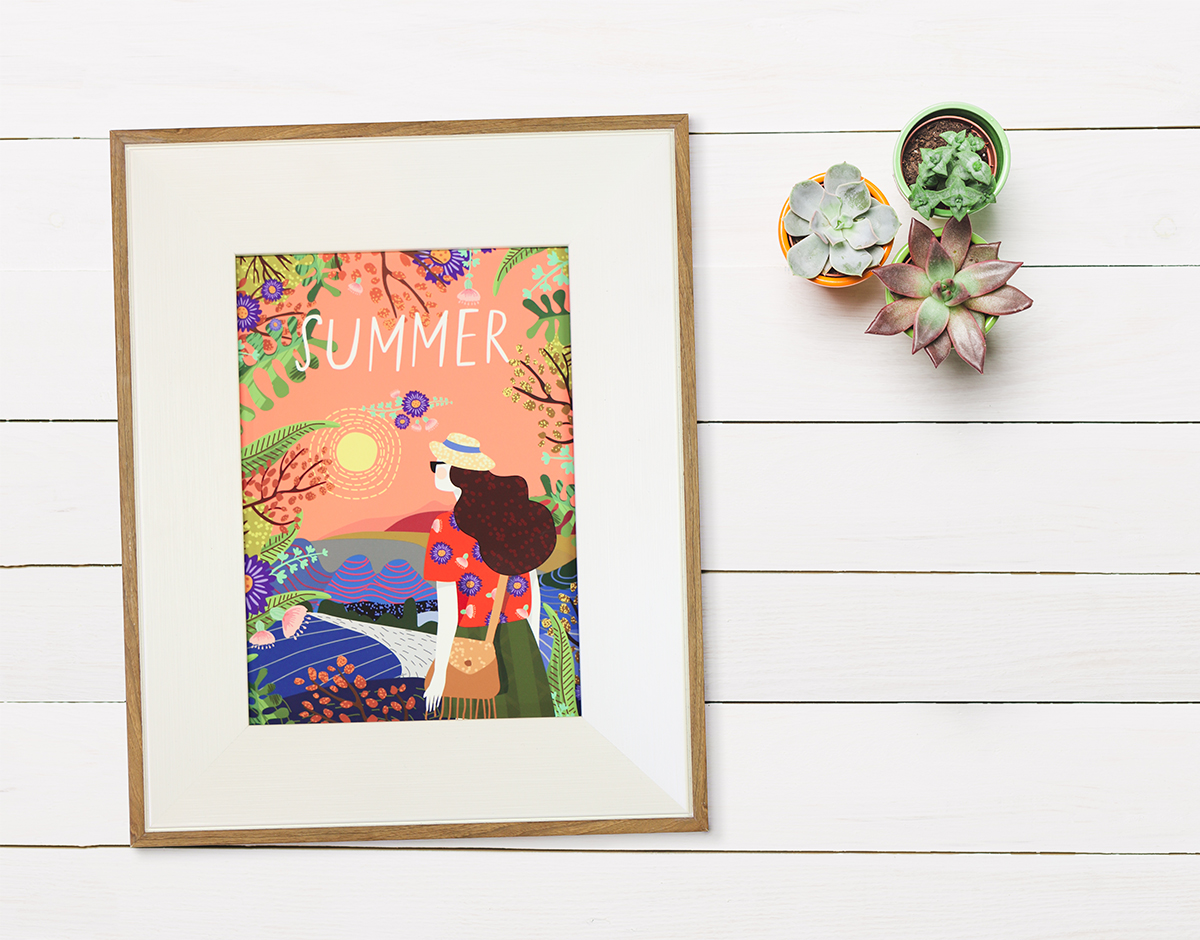 Our last example, borrowing some fresh style from a previous arrangement, is a two-toned fabulous photo frame. Without actual matting involved, we've popped our luminous little print into a multitasking frame that opens up the color, while the wood-stained edge anchors the finished piece. One part traditional in its color palette and one part contemporary with its modern profile, this frame is versatile enough for any interior style. If you're looking to give the gift of colorful art and want to be "safe" in your framing choice, then you can't go wrong with this style.
Whatever way you choose–I think we all can agree that everything looks better in color. So in case you missed it, or I have somehow been too subtle… let's get framing, and let's get COLORFUL. Because color is always in style.