We believe that custom framing is a unique, personal experience; and we respect the emotional and financial investment of framing your cherished items. We strive to match your investment with stellar customer service and unparalleled craftsmanship.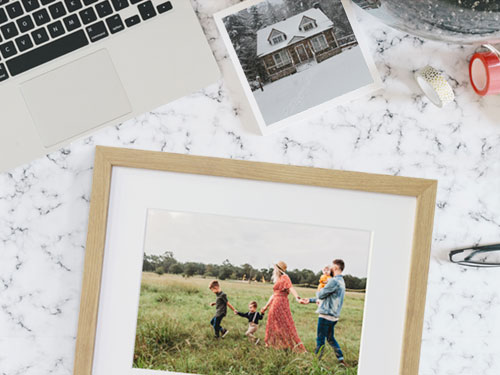 Custom frame your favorite photos online. Design with ease and frame with style from the comfort of your couch.
Search by what you're framing and find design ideas for every type of art, object, jersey, fabric art, photo, or memorabilia.
Browse our selection of readymade frames, and choose free in-store pick up or have it shipped right to your door.
Wondering if we can frame "that"?
Chances are you're not the first one to ask.  Browse our most frequently asked questions, and you might find what you're looking for. Or ask your own question!
If you love it, we can frame it! (no pets or significant others, please) Simple posters and prints, valuable works of art on paper or canvas, cherished documents, favorite photos, family heirlooms, 3D objects, mirrors--our skilled professionals will help design the right custom frame or display solution for… whatever you love. We offer obligation-free designs and quotes in our stores, so come see us! To get started now, visit our custom frame page.
Good things come to those who wait, right? Just kidding. We strive to have your framing back to you as fast as we possibly can (for both a custom or a readymade product); but it really just depends on what you're framing and the extent of the craftsmanship. To give you a better idea, see below:
Custom Picture Framing takes from 7–14 days, with most orders falling closer to the 7-day mark. In the event that you have procrastinated, we can always rush an order in 2-3 days. Some of our stores even offer Same-Day Custom Framing with in-stock materials.
Readymade Picture Framing can take from 45 minutes to 24 hours. We offer a wide selection of readymade frames that can be customized with the glass, mats, and backing of your choice. We offer while-you-wait-assembly, which is subject to the busyness of our stores and availability of our staff. We also offer grab-and-go readymade frames that can be purchased in-store and online and fit with your art at home.
Yes, and we can't wait! Our creative designs, honest advice, and personalized service is always FREE. We're here to to make your framing journey effortless and enjoyable--from helping you choose the perfect mat and frame combination to planning out the final presentation on your wall if you'd like. Come see us, or schedule an art pick up. We'll start by asking about your personal style, and where the piece will hang with relation to furniture and lighting. Ready to do this? Get your custom frame started now.
Don't hesitate to tell us about your project's timeline and budget. We're straightforward with our abilities and our pricing, and we're ready to make your world a more beautiful place!