Tired of cooking your go-to recipes over and over again? Spice things up this weekend and try a new, easy recipe to celebrate National Cooking Day! Hall of Frames is celebrating with Maggie Norris of Whisked Away Cooking School AZ and one of her favorite recipes: Ricotta-Mascarpone Stuffed Shells with Meat Sauce.
This easy and family-friendly recipe is sure to please everyone at the dinner table. There just might not be leftovers…
Don't believe us? We liked it so much that we framed it!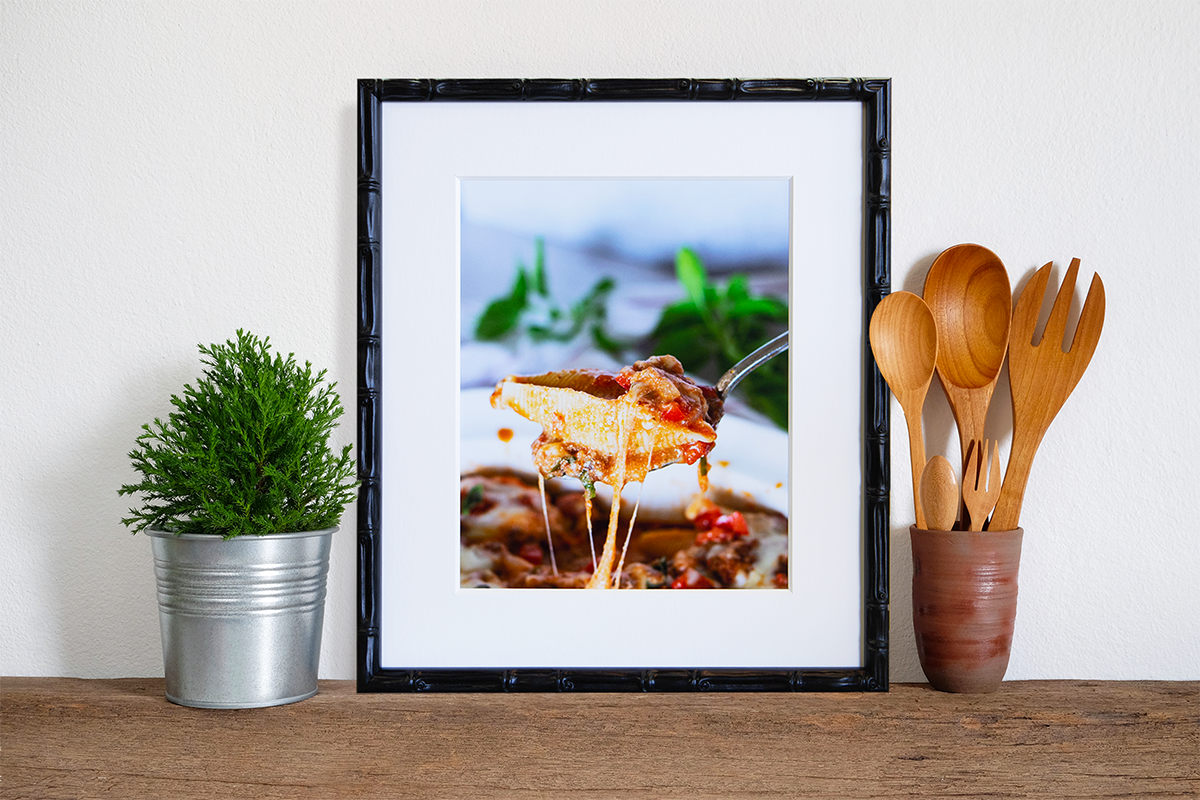 So put on your apron, preheat your oven to 350 degrees, and get cooking!
Ricotta-Mascarpone Stuffed Shells with Meat Sauce
Maggie Norris – Whisked Away Cooking School
Yields: 4-6 servings
Ingredients:
Sauce:
1-2 tbs Extra Virgin Olive Oil
2 links Italian Sausage, removed from casings
1/2 Red Pepper, diced
1/2 Medium Onion, diced
2 Cloves Garlic, minced
1 24oz can San Marzano Whole Peeled Tomatoes
1/4 cup Basil Leaves, finely sliced
Kosher Salt + Pepper
1 tsp Crushed Red Pepper Flakes (optional) Filling:
1 cup Whole Milk Ricotta
1/4 cup homemade or store bought Pesto
1/4 cup Mascarpone Cream Cheese
Kosher Salt + Pepper
1/2 cup Shredded Mozzarella Cheese
Instructions:
Preheat oven to 350 degrees Fahrenheit.
Line a sheet tray with foil and spray with cooking spray.
Cook the Pasta Shells: Bring a large pot of water to a boil. Add salt and then add shells. (Stir the shells to avoid sticking) Boil the shells until al dente. Drain shells. (Do not rinse.) Place shells on foil-lined sheet tray, making sure they do not touch.
Prepare the Sauce: Heat a medium saucepan over medium-high heat. Add oil and heat. Add the Italian sausage and brown. Add the pepper, onion, and garlic. Saute until sausage is cooked through and vegetables are softened. Add the tomatoes and bring to a boil. Reduce to a simmer and cook for 20 minutes.
While the sauce is simmering, mix the ricotta, pesto, and mascarpone. Taste for seasoning. Fill the shells with about 1 tbs of the ricotta mixture and rest on foil-lined sheet tray.
When sauce is done simmering, add the basil to the sauce and taste for seasoning. Spoon half of the sauce into the bottom of and 8×8 pan. Transfer shells into pan. Top with the remaining sauce and sprinkle with mozzarella cheese.
Place pan in the oven and cook until the sauce is bubbling and the cheese is melted.
Garnish with fresh basil and enjoy!
For more information about Maggie and Whisked Away Cooking School recipes and tips, visit www.whiskedaway.net or follow her on Instagram. Maggie is currently offering public and private virtual classes.