What is "the look of love"? Is it the way you look at your significant other? Is it the look you have when you're in love? Or could it be something altogether different?
Could it be a thing—THE thing—that reminds your Valentine over and over, every time they look at it, just how much you love them?
In these days of busier lives and fuller days, personalized gifts demand an investment in time and thought, but they also tell the recipient "You matter to me, so I slowed down for you—thought about you, created this for you…"
We all mean well, but invariably end up with the same (convenient-though-pricey) gifts for those we love. But let's all do better this year okay? Okay.
Need a little nudge in the gift-giving direction? Sure thing. We're always game to play Cupid. Here are a few ideas for a meaningful gift that says "I love you" this Valentine's Day and every other day too!
Snaps for your Sweetheart. Let's start with the basics here. Framed photos, while an obvious choice, can be one of the most romantic gifts ever. Loving moments captured on your phone, elegantly-staged wedding or engagement photos, or even a fun selfie you forgot you took. Remind your Valentine of a moment when you both fell a little bit more for each other, and let that moment transform a wall, a desk, a shelf into the look of love.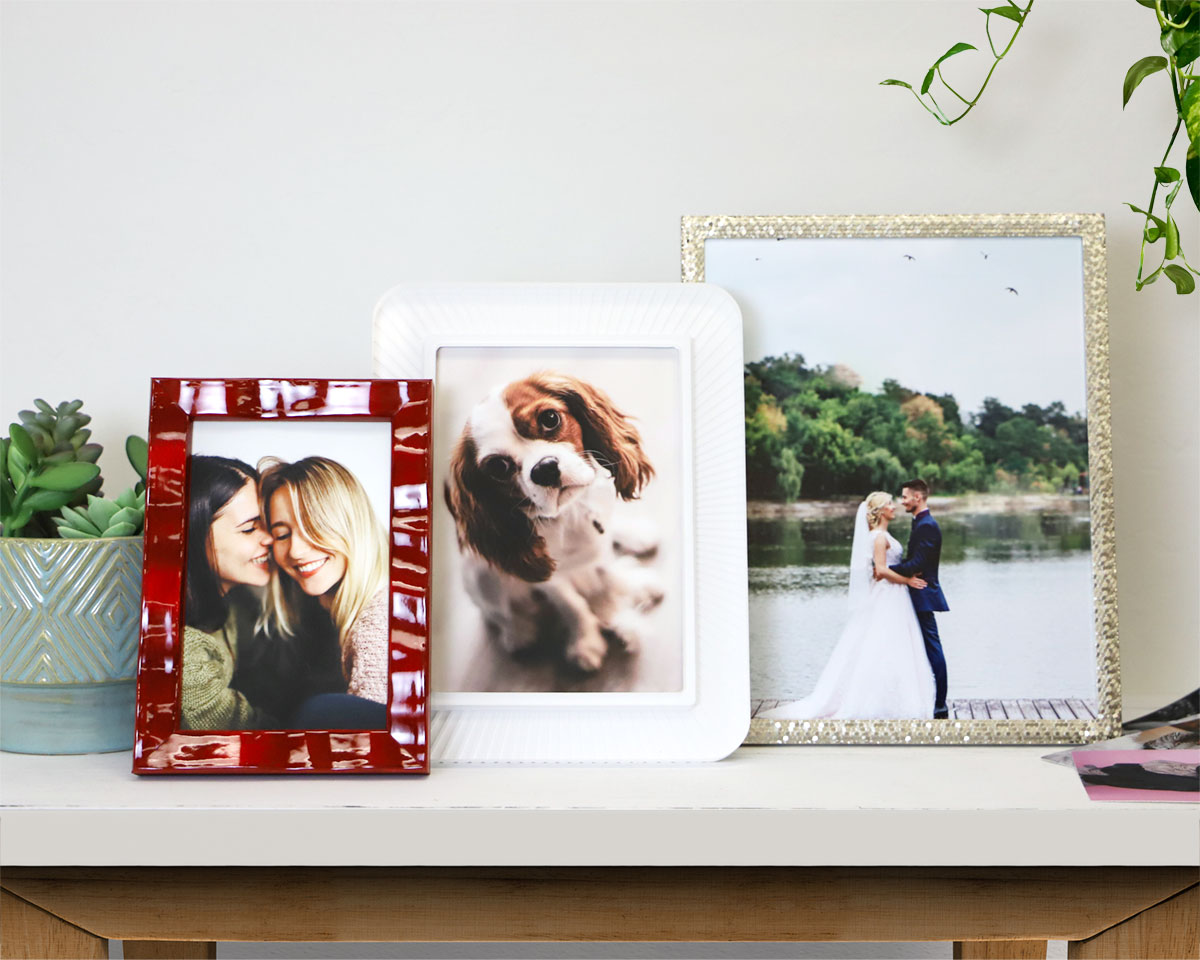 Prints for your Paramour. We know, picking out art for another person is risky business. After all, art is so personal, so taste-driven, so soul-driven even. But this is Valentine's Day: the day to lay it all on the line. The day to go big or go home. The day to declare, "I know you so well that I know you will love this art print, painting, lithograph, poster that I framed for you. Hang it in your favorite space and think of me."
Collectibles for your Crush. Okay, here's where you gotta dig deep. Or at least dig through some boxes or drawers. What do they love? (Besides you, hopefully.) What do they collect? What makes them tick? What makes them smile? What trinket—or collection of them—deserves to be beautifully framed to honor a milestone or sweet moment in your relationship? Things are just, well, things until there is a memory attached to them. So remind the One you love this Valentine's Day that you cherish a memory, and so you cherish the item. As you also cherish them.
Photos, prints, objects, collectibles… put loved things on your walls, and get ready to feel the warmth, intimacy, and home-sweet-home of your space in a new way. Because when you personalize a framed gift to charm Your Person this Valentine's Day and always? Now that's the look of love!