Shake it up this year and give your favorite mixologist a gift they can hang above the bar. Custom frame their favorite spirit and include all of the ingredients for their go-to Holiday cocktail!
Don't have a go-to Holiday cocktail? Try our favorite: A Very Berry Christmas.
A Very Berry Christmas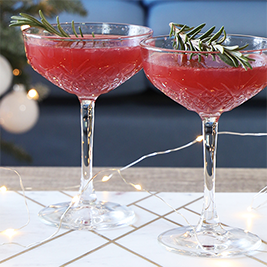 Ingredients
Gin
Prosecco
Cranberry Juice
Tonic
Rosemary
Fresh Cranberries
Measure 1 part Gin, 2 parts Prosecco, and 1 part Cranberry Juice. Stir well and pour into a cocktail glass. Add a splash of Tonic Water. Top with a sprig of Rosemary and fresh Cranberries.
To create your gift in time for the Holidays, design and order your custom frame by 12/10. Visit one of our 8 locations in Phoenix, AZ today to get started!

To learn more about custom framing objects and 3D shadowboxes, click here.